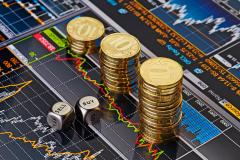 The current ear/usd depreciation from 1.3835$ to 1.3511$ has created a good technical entry point.
Key facts Strong postive pressure (OBV) Oversold levels of RSI and WIlliams %R are clearly identified Small period EMAs > large period EMAs EMAs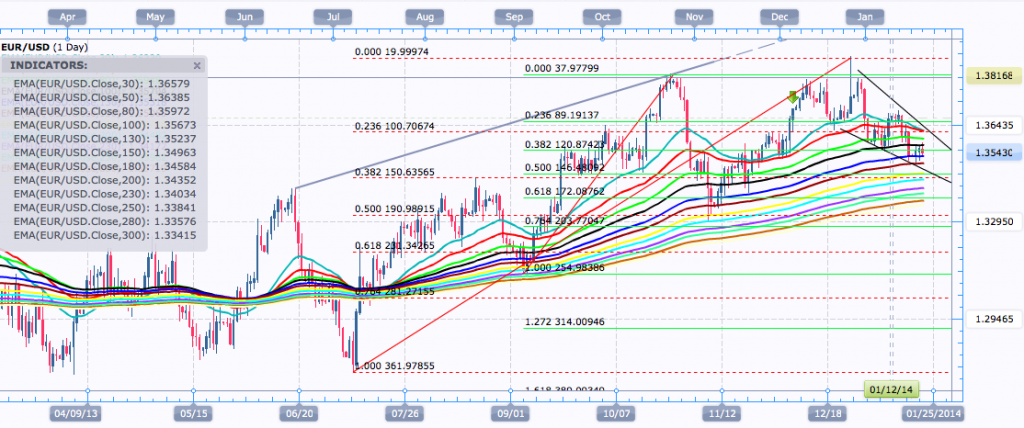 Small periodic exponential moving averages are moving above the large, EMA 50D>80D>100D e.t.c. This is a clear buy signal.
OBV

There is a stong positive pressure since December 12, 2013. The volume has increased from 264,318 units to 1,263,188 units. Buyers seem to overweight in the market
RSI - %R 

Williams %R is -99.48 beaking the oversold level -80.00, whereas RSI is 38.11, very near to the oversold level of 30.00. The strenght of the trend has been on a downward momentum since December 18, 2013, now it has been already in the lowest strength momentum. The very low levels indicate that a very near upward correction will take place.
Positioning
Open long at current price 1.3546 targeting 1.3622 (23.6 Fib. retrc. from 1.2756 - 1.3886, Intersection point of EMAs 30D -50D)
Posted-In: Forex Markets Best of Benzinga
(c) 2014 Benzinga.com. Benzinga does not provide investment advice. All rights reserved.
Most Popular What Spooked The Market? Apple's New Hires Would Make the iWatch Revolutionary H&R Block or TurboTax (Intuit): Which is the Better Bet? Market Wrap For January 24: Fear Is Back In The Markets Top Gainers After Hours Is It Time To Worry Again? Related Articles () Top Earnings-Related Movers for Week of Jan. 20th Signet Announces Mgmt Had Constructive Meeting with Corvex Market Wrap For January 24: Fear Is Back In The Markets FireEye to Announce Q4, FY 2013 Results on February 11, 2014, After the Market Close Benzinga Weekly Preview: Tech Sector To Steal The Spotlight Ariad Shares Continue to Surge Amidst Buyout Rumors Around the Web, We're Loving... Lightspeed Trading Presents: Thunder and Tubleweeds: Trading Techniques for the New Market Enviroment Pope Francis Rips 'Trickle-Down' Economics Come See How the Pro's Trade in this Exclusive Webinar Wynn, MGM, Other Casino Giants Vying For U.S. Turf What Should You Know About AMZN? View the discussion thread. Partner Network